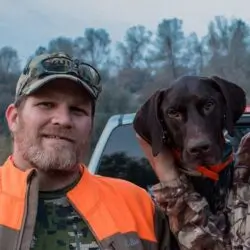 My name is TJ Downes, founder of Gobblezilla. I am based in Toledo, WA and have been all over the US.
Gobblezilla was founded on the principle that anyone can learn to hunt, and that knowledge of hunting should be shared, even with those who may not have someone to pass it on to them. Finding huntable land, scouting, the actual hunt, post hunt care of the animal as well as cooking the game are all skills that take decades to learn. Without a mentor, many new hunters give up quickly. I am here to take you under my wing and teach you how to become a hunter.
I am passionate about hunting and Second Amendment rights. I even run a volunteer program to teach gun safety to youths. I believe that in order to advance interest in our gun rights, shooting sports and hunting, *I* have to be actively involved. This means sharing my experience with you.
I grew up hunting in Central Oregon. Mainly I hunted mule deer and elk with my dad. As an adult, I branched out into many other things, including wing shooting, foraging and fishing. But I especially became addicted to turkey hunting. Each spring season I travel to three states to hunt turkeys and share that passion with friends. Now I feel it is time to share it with those who will really have an impact on hunting: new hunters.